Canadian Biotechnology Education Resource Centre, Toronto
13 May 2004
Top winners: Edmonton, Winnipeg, Saskatoon, Toronto and Montreal
Teen Scientist from Alberta to Compete for Canada in San Francisco June 6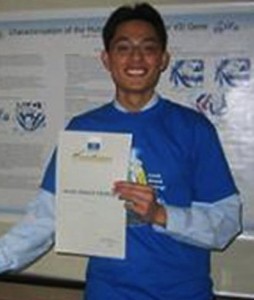 Students from Western Canada swept the top three of five awards announced today in the 2004 National Aventis Biotech Challenge.
Students from Edmonton (1st), Winnipeg (2nd), and Saskatoon (3rd) took top honours with competitors from Toronto and Montreal finishing 4th and 5th respectively.
A special new 6th award, for the project deemed by the judges to have the greatest commercial potential, will be announced on a news teleconference call from the National Research Council today at 1 p.m. EDT.
The first place winner, Charles Tran, will now represent Canada at the 2004 BioGENEius Student Competition in San Francisco, June 6.  He won the $5,000 top Canadian prize after a cross-country series of student presentations via videoconference yesterday to a panel of seven judges at the National Research Council in Ottawa.
Tran's project, "Characterization of the Mutations of the Factor VII Gene," may have identified the genetic mutation responsible for a rare condition that prevents blood from clotting.
The national prizewinners were chosen from among the 12 winners of regional competitions held across Canada.
News release in full, click here