Millennium Ecosystem Assessment / United Nations University
March 30, 2005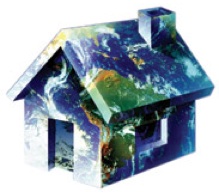 A landmark study released today reveals that approximately 60 percent (15 out of 24) of the ecosystem services that support life on Earth are being degraded or used unsustainably. Scientists warn that the harmful consequences of this degradation could grow significantly worse in the next 50 years.
The study, Millennium Ecosystem Assessment (MA) Synthesis Report, is the first in a series of seven synthesis and summary reports and four technical volumes that assess the state of global ecosystems and their impact on human well-being. The study started in 2001 in response to a call by UN Secretary General Kofi Annan for global support  of the Millennium Development Goals. This first report is being released together with a statement by the MA board of directors entitled "Living beyond Our Means: Natural Assets and Human Well-being.
The MA's work is overseen by a 45-member board of directors,  co-chaired by Dr. Robert Watson,  chief scientist of The World Bank,  and Dr. A. H. Zakri,  director of the United Nations University's Institute of Advanced Studies.
Example coverage, by The Associated Press, click here, by Reuters, click here, more sources, click here