United Nations University
11-Nov-2008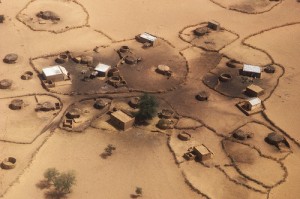 "Arid aquaculture" using ponds filled with salty, undrinkable water for fish production is one of several options experts have proven to be an effective potential alternative livelihood for people living in desertified parts of the world's expanding drylands.
In a report released today, researchers with the United Nations University, the International Centre on Agricultural Research in Dryland Areas (ICARDA), and UNESCO's Man and the Biosphere (MAB) Program say alternatives to traditional crop farming and livestock rearing will need to be put in place in drylands in order to mitigate human causes of desertification.
While it may sound far-fetched, researchers say using briny water to establish aquaculture in a dry, degraded part of Pakistan not only introduced a new source of income, it helped improve nutrition through diet diversification. The researchers also showed it possible to cultivate some varieties of vegetables with the same type of brackish water.
Drylands residents, many of whom are the world's "poorest of the poor," employ "highly vulnerable livelihood strategies that depend on land productivity" warns the report, which describes the success of several occupational options explored in a four-year, multi-country study.
Full news release text:
www.eurekalert.org/pub_releases/2008-11/unu-aa110308.php
Coverage summary:
http://spreadsheets.google.com/ccc?key=pRwdzmg01IrSuVgycW55Ucg
Example coverage, by Asian News International: click here