e8
Montreal, Canada
18-Feb-2008
Power utilities from US, Canada, France, Italy, Germany, Japan, Russia team on project to help protect 'Mona Lisa' of biodiversity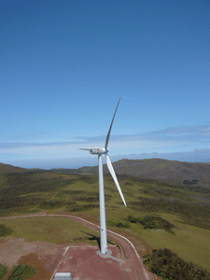 In January 2001, the world held its breath when the tanker Jessica, loaded with 150,000 gallons of fuel, struck a reef and began breaking up in the heart of one of the most precious, famous and fragile ecosystems on earth – the Galapagos Islands.
At risk were vast numbers of unique species of flora and fauna renowned through studies by Charles Darwin that contributed to his landmark theory of evolution by natural selection.
While scores of wildlife required cleaning by Galapagos National Park Service staff and volunteers, the wind and currents stepped in to narrowly avert an environmental catastrophe. Yet the sight of thousands of gallons of oil pouring into the ocean off the Galapagos island of San Cristobal triggered a determined international initiative to mitigate risks of future spills by dramatically reducing the islands' dependence on diesel fuel to generate electricity.
Ecuador's President Rafael Correa today launched his country's programme to rid the use of fossil fuels on the Galapagos by 2015, an initiative led by the San Cristobal Wind Project – three giant wind turbines that will halve the island's diesel fuel imports and pave the way for further renewable energy development elsewhere in the archipelago.
Turbines installed by the San Cristobal Wind Project, an international partnership between the government of Ecuador, the UN Development Program and nine of the world's largest electricity companies (known as the e8), started supplying power on the islands last October. The system will meet 60 to 80% of electrical demand during the windy months of October, November and December.
Full story: www.eurekalert.org/pub_releases/2008-02/e-1wt021808.php
Example coverage, Greenwire (via NY Times), click here