United Nations University
15 September 2009
Sold in 2006: 230 million computers, 1 billion cell phones, 45.5 million TVs; many destined for uncontrolled disposal without change in policies, consumer practices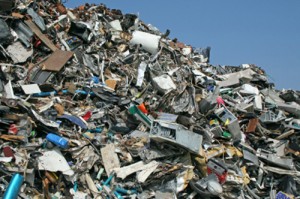 Processes and policies governing the reuse and recycling of electronic products need to be standardized worldwide to stem and reverse the growing problem of illegal and harmful e-waste processing practices in developing countries, according to experts behind the world's first international e-waste academy.
Making appropriate recycling technologies available worldwide and standardizing government policy approaches to reuse and recycling could dramatically extend the life of many computers, mobile phones, TVs and similar products and allow for more complete end-of-life harvesting of the highly valuable metals and other components they contain.
"Rapid product innovations and replacements – the shift from analog to newer digital technologies and to flat-screen TVs and monitors, for example – is pushing every country to find more effective ways to cope with their e-waste," says Ruediger Kuehr of United Nations University, Executive Secretary of a global public-private initiative called Solving the E-Waste Problem (StEP). Based in Bonn, Germany, StEP works with policy makers, industry, academia and other stakeholders.
Full text: click here
Coverage summary: click here
Example coverage, by Reuters, click here