e8
Montreal
21-Jan-2010
2,000-year-old 'stairway to heaven,' a threatened World Heritage Site, to benefit from proceeds of $1 million, e8-donated mini-hydro project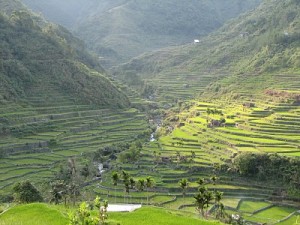 Philippines officials today received the symbolic keys to a donated 200 kW hydro-electric project that, in addition to green energy, will start generating money to halt deterioration of the country's fabled ancient rice terraces.The massive, spectacular and iconic Asian rice terraces were created on mountainsides largely by hand by indigenous people of the northern Ifugao province at least two millennia ago. Fed by tropical forest springs above, they are popularly referred to as "the stairways to Heaven," and the "Eighth Wonder of the World."
Eighty generations later, the terraces' condition prompted UNESCO in 2001 to include them on its list of World Heritage Sites in Danger.
The $1 million mini-hydro facility, donated by the e8 and located discretely in the Ambangal river downstream of the postcard terraces, will create annually about 1,450 megawatts hour (MWh) of much-needed new energy for the area, meeting 18% of the province's electricity needs, and generating some US $70,000 in annual revenue for the new Rice Terrace Conservation Fund, fully dedicated to urgently needed shoring up of the terraces and related activities.
Developed over four years in collaboration with the Philippines Department of Energy and the Provincial Government of Ifugao, the facility was built and donated by Japan's Tokyo Electric Power Company (TEPCO) on behalf of the e8, an international non-profit organisation of 10 leading power utilities from G8 countries.