Canadian Water Network
Waterloo, Ontario
27-Feb-2011
$1 trillion global water market forecast for 2020;
Global freshwater demand expected to exceed supply by 40 percent by 2030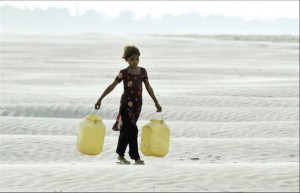 Famed especially for the excellence of its peacekeepers and ice hockey players, Canada's water experts are now increasingly needed to help countries elsewhere brace for drought, flood and unsafe water problems looming on a 15 to 20 year horizon.
Within a single generation, recent studies show, water demand in many countries will exceed supply by an estimated 40%, with one-third of humanity having half the water required for life's basics. In flood-prone places, meanwhile, catastrophic flood events normally expected once a century – similar to those recently witnessed in Pakistan and Australia – can now be expected every 20 years instead.
The anticipated crises create a fast-growing need for technologies and services to discover, manage, filter, disinfect and/or desalinate water, improve infrastructure and distribution, mitigate flood damage and reduce water consumption by households, industry and agriculture – the biggest water user by far at 71% worldwide.
And Canada is well positioned to mobilize and share worldwide its extensive experience gained stewarding 9% of the world's freshwater supply.
Representing an important step in that process, some 300 scientists, policy-makers, economists and other stakeholders convene in Ottawa Mon. Feb. 28 to Thurs. March 3 for an international meeting hosted by the Canadian Water Network (CWN) showcasing latest world research findings as well as proven news tools, ideas and best practices for optimizing water management.
Full news release text:click here
Coverage by Agence France Press: click here
Coverage summary, click here