United Nations Environment Programme, Nairobi / Paris
07 Jul 11
China, developing countries are now biggest investors in large-scale renewables while Germany surges ahead on rooftop solar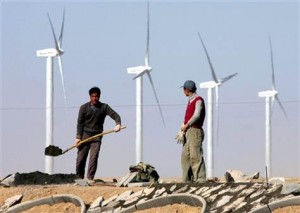 Wind farms in China and small-scale solar panels on rooftops in Europe were largely responsible for last year's 32% rise in green energy investments worldwide according to the latest annual report on renewable energy investment trends issued by the UN Environment Programme (UNEP).
Last year, investors pumped a record $211 billion into renewables — about one-third more than the $160 billion invested in 2009, and a 540% rise since 2004.
For the first time, developing economies overtook developed ones in terms of "financial new investment"–spending on utility-scale renewable energy projects and provision of equity capital for renewable energy companies.
On this measure, $72 billion was invested in developing countries vs. $70 billion in developed economies, which contrasts with 2004, when financial new investments in developing countries were about one quarter of those in developed countries.
The report, Global Trends in Renewable Energy Investment 2011, has been prepared for UNEP by London-based Bloomberg New Energy Finance.
Full news release: click here
Coverage summary: click here
Example coverage, by The Associated Press: click here