United Nations University, Solving the E-waste Problem initiative
30-Oct-2011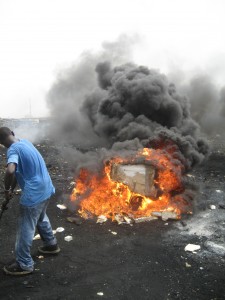 Tests at a school beside an informal electronic waste salvage site in Ghana's capital Accra reveal contamination due to lead, cadmium and other health-threatening pollutants over 50 times higher than risk-free levels.
A produce market, a church headquarters and a soccer field are likewise polluted to varying degrees, all neighbours of the Agbogbloshie scrap metal site, where electronic trash is scavenged for valuable metals – especially copper. Schoolchildren as young as six work around bonfires of circuitry, plastic and other leftover high-tech trash.
Ironically, experts say critical metals and other elements in all that destroyed equipment — much of it castoffs from Europe and North America — may soon be in short supply, which threatens to drive up the cost of products ranging from flat-screen TVs and mobile phones to electric cars and wind turbines.
The contamination test results were shared by Ghana researcher Atiemo Sampson at this year's Solving the E-waste Problem (StEP-Initiative) Summer School, hosted in Europe by Philips and Umicore for 20 of the field's most promising international graduate researchers.
Full news release text: click here
Example coverage, by The NY Times click here, by TIME click here, by The Earth Times click here, by the EFE newswire, Spain, click here
Coverage summary, click here