Project CLAMER (Flanders Marine Institute, (VLIZ) Oostende, Belgium, and             Royal Netherlands Institute for Sea Research (NIOZ), Texel, Netherlands)
5-Apr-2011
Scientists inventory, synthesize 13 years of research on climate change and Europe's marine environment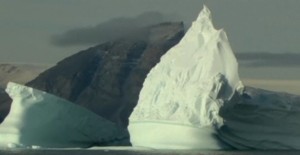 A massive, growing pool of icy meltwater in the Arctic Ocean is a wild card in future climate scenarios, European researchers said today.
Estimated in 2009 at more than 7,500 cubic km – twice the volume of Africa's Lake Victoria – and growing, the water could flush quickly into the Atlantic with unpredictable effect when prevailing atmospheric patterns shift, as occurred most recently in the 1960s and 1990s.
The situation is one of many disquieting findings captured by project CLAMER, a collaboration of 17 institutes in 10 European countries to inventory and synthesize the research of almost 300 EU-funded projects over 13 years related to climate change and Europe's oceans and near-shore waters, and the Baltic and Black Seas.
Full news release, click here
Sample coverage, by The Associated Press, click here, by MS-NBC, click here
Coverage summary, click here