United Nations University, Institute for Water, Environment and Health,
Hamilton, Canada
6 Feb 2011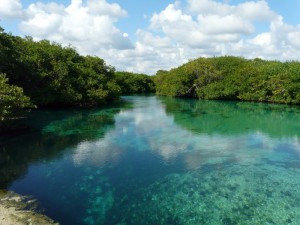 Pharmaceuticals, illicit drugs, shampoo, toothpaste, pesticides, chemical run-off from highways and many other pollutants infiltrate the giant aquifer under Mexico's "Riviera Maya," research shows.
The wastes contaminate a vast labyrinth of water-filled caves under the popular tourist destination on the Yucatan Peninsula. The polluted water flows through the caves and into the Caribbean Sea. Land-sourced pollution may have contributed, along with overfishing, coral diseases, and climate change, to the loss since 1990 of up to 50% of corals on the reefs off the region's coast.
And, with a 10-fold increase in population through 2030 expected, the problems are likely to worsen, according to research published today in the journal Environmental Pollution.
"These findings clearly underline the need for monitoring systems to pin-point where these aquifer pollutants are coming from," says Trent University Prof. Chris D. Metcalfe, Senior Research Fellow of the United Nations University's Canadian-based Institute for Water, Environment and Health (UNU-INWEH).
Full text: here
Example coverage:
Agence France Presse, click here
Reuters, click here
Agencia EFE, click here
United Press International, click here
Coverage summary: click here