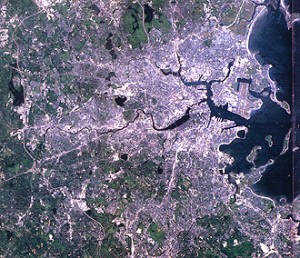 Earth System Science Partnership, Paris
27-Mar-2012
Unless development patterns change, by 2030 humanity's urban footprint will occupy an additional 1.5 million square kilometres – comparable to the combined territories of France, Germany and Spain, say experts at a major international science meeting underway in London.
UN estimates show human population growing from 7 billion today to 9 billion by 2050, translating into some 1 million more people expected on average each week for the next 38 years, with most of that increase anticipated in urban centres. And ongoing migration from rural to urban living could see world cities receive yet another 1 billion additional people. Total forecast urban population in 2050: 6.3 billion (up from 3.5 billion today).
The question isn't whether to urbanize but how, says Dr. Michail Fragkias of Arizona State University, one of nearly 3000 participants at the conference, entitled "Planet Under Pressure". Unfortunately, he adds, today's ongoing pattern of urban sprawl puts humanity at severe risk due to environmental problems. Dense cities designed for efficiency offer one of the most promising paths to sustainability, and urbanization specialists will share a wealth of knowledge available to drive solutions.
How best to urbanize is one among many "options and opportunities" under discussion by global environmental change specialists today, Day 2 of the four-day conference March 26-29, convened to help address a wide range of global sustainability challenges and offer recommendations to June's UN "Rio+20" Earth Summit.
News release in full, click here
Example coverage, by Reuters, click here, by United Press International, click here
Coverage summary, click here