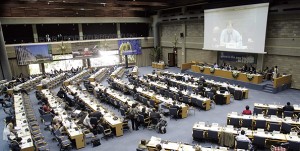 Office of the Science Advisor to the Prime Minister, Malaysia /
Malaysian Industry‑Government Group for High Technology, Kuala Lumpur
21-Feb-2012
'Conditions right for important reform of environmental governance'
With environmental threats on the rise and more than 120 countries now in favor of reforming international environmental governance, conditions are right to create a new, specialized global environmental agency, says one of the world's leading scientists.
In a keynote address to government ministers meeting Tuesday in Kenya, Zakri Abdul Hamid, Science Advisor to the Prime Minister of Malaysia and former co-chair of the UN Millennium Ecosystem Assessment, says the world cannot afford the "overlapping mandates, funding requests and a lack of coordination and coherence," that characterizes today's "sprawling, decentralized regime" of global environment-related conventions and organizations.
Resources needed for effective program implementation are spent instead on administration, says Prof. Zakri.
"Besides making our limited resources work harder, we need to move beyond negotiating problem statements to capacity building and implementing solutions," he told the Ministerial Roundtable Discussion on the Institutional Framework for Sustainable Development, meeting at the Nairobi headquarters of the United Nations Environment Programme.
News release in full: click here
Example coverage, by the Indian Express, click here, by Our Planet magazine, click here