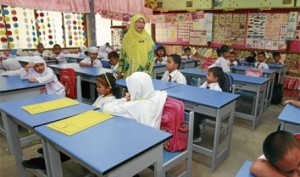 Office of the Science Advisor to the Prime Minister, Malaysia /
Malaysian Industry‑Government Group for High Technology, Kuala Lumpur
29-Feb-2012
Educational challenges, remedies common worldwide: Experts
Plugging major "leaks" of students exiting formal education prematurely is a top priority in all countries — developed and developing alike — to successfully address a suite of problems confronting humanity in decades to come, says a leading American educator.
Addressing a Malaysian forum on entrepreneurial education, Nancy L. Zimpher, Chancellor of the State University of New York, noted the rate of kids completing education in her US state was little better than in the developing nation she was visiting.
For every 100 New York kids entering high school, just 57 graduate, 41 immediately enter college, 31 of those are still enrolled in 2nd year, and just 19 graduate with a post-secondary degree of some sort within six years.
By comparison, rough data show that for every 100 Malaysian children, approximately 97 attend (and 78 finish) primary school, 66-69 enter (and 55 graduate) upper secondary school, an estimated 33-37 go on to post-secondary education, and about 10 graduate.
"Such rates of attrition aren't going to build for us innovative societies," says Dr. Zimpher, part of an all-star team of international experts counseling Malaysia in its drive to become a developed country.
News release in full, click here
Example coverage: The Star, Malaysia, click here, New Straits Times, Malaysia, click here