Grand Challenges Canada, Toronto
22 May 2014
New investments top $12 million: 4 scale-up projects plus 61 seed grants announced as Canada prepares to host world summit on maternal, newborn and child health, May 28-30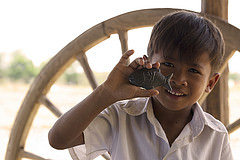 Grand Challenges Canada, funded by the Government of Canada, today announces investments of $12 million in projects worldwide, aimed squarely at improving the health and saving the lives of mothers, newborns and children in developing countries.
From a "lucky iron fish" placed in tens of thousands of Asian cooking pots to reduce anemia, to "motherhood insurance" to ensure that poverty doesn't impede emergency care if needed during a baby's delivery, to kits for home farming edible insects to improve nutrition in slums of Africa and Latin America, the 65 imaginative projects focus on a range of health problems that, despite major progress, continue to kill millions of women, newborns and children each year.
Four Canadian-based projects (from Guelph, Toronto, Waterloo and Winnipeg) with proven impact and sustainability will share $2.6 million in scale-up grants and loans from Grand Challenges Canada, matched by $2.6 million from private and public partners, bringing total "transition-to-scale" investments to $5.2 million.
In addition, Grand Challenges Canada "Stars in Global Health" seed grants of $112,000 each ($6.8 million in total) are awarded to:
35 innovators from 13 developing countries in Asia, Africa and Latin America
26 Canadian-based innovators from the following cities: Vancouver (5 grants), Saskatoon (3 grants), Calgary, Victoria, Edmonton, Montreal, Toronto (2 grants each), Kamloops, Oakville, Oshawa, Ottawa, Waterloo, Sherbrooke, Laval, Sydney.
The announcement coincides with preparations in Toronto to host 'Saving Every Woman Every Child: Within Arm's Reach', a global summit on maternal, newborn and child health, being held from May 28 to 30. Organized by the Government of Canada, the Summit will assess progress on the Canadian-led "Muskoka Initiative" inaugurated at the G8 meeting in 2010. Canada has been a world leader in promoting the health and reducing mortality rates of women and children in developing countries.
To be implemented across 25 low- and middle-income countries, all of today's projects relate to the Summit goal of leveraging innovation. That also relates closely to one or more of the other critical issues at the heart of the Summit's agenda:
Accelerating progress on maternal health
Reducing newborn mortality
Saving lives through immunization
Scaling up nutrition as a foundation for healthy lives
Building civil registration and vital statistics systems
Building new partnerships with the private sector to leverage innovation and financing
Examples include:
The little "Lucky Iron Fish," now in growing use by cooks in Cambodia, has proven effective in reducing rampant iron deficiency among women – the cause of premature labour, hemorrhaging during childbirth and poor brain development among babies. Initial local reluctance to use a loose piece of iron in cooking pots was overcome by a clever design tapping into Cambodian folklore about a fish species that brings good fortune. In partnership with small businesses across Cambodia, plans for this year and next call for production and distribution of 60,000 lucky iron fish, made from recycled material at a cost of about $5 each, which provide health benefits for roughly three years. (Lucky Iron Fish, Guelph, a transition-to-scale investment, grant #0355, video, images. More information: http://bit.ly/1mIZeWr)
All projects, listed geographically:
Asia: 26 projects, total investment: $5.7 million: http://bit.ly/1sbmOIu
Africa: 31 projects, total investment: $4.86 million: http://bit.ly/RxudX1
Latin America / Caribbean: 8 projects, total investment: $1.4 million: http://bit.ly/1mKMXMw
All Canadian-based projects: 30 projects, including four transition to scale investments: http://bit.ly/1mIZeWr
All projects listed by health priority: http://bit.ly/1oeOZIV
"Our government is proud of the progress on promises Canada and other nations made as part of the Muskoka Initiative to improve the health and save the lives of women, newborns and children in the developing world," said the Honourable Christian Paradis, Minister of International Development and Minister for La Francophonie. "By supporting innovative proof-of-concept projects and the scale-up of proven ideas, and by leveraging additional private sector knowledge and funds, a difference is being felt in health conditions in developing countries. The creation of jobs here and abroad serves as an added benefit."
Dr. Peter A. Singer, Chief Executive Officer at Grand Challenges Canada notes that, Grand Challenges Canada selects projects that embody the "Integrated Innovation" approach – the combination of science and technology with social and business innovation to find sustainable solutions to health challenges.
"All of the projects announced today illustrate the power of innovation to save and improve the lives of women and children," says Dr. Singer. "Innovation really means that tomorrow will be a brighter day than today for those who need it the most in developing nations. I salute the global leadership Canada is showing in focusing the world's attention on saving every woman and every child."
###
About Grand Challenges Canada
Grand Challenges Canada is dedicated to supporting Bold Ideas with Big Impact in global health. We are funded by the Government of Canada and we support innovators in low- and middle-income countries and Canada. The bold ideas we support integrate science and technology, social and business innovation to find sustainable solutions to health challenges – we call this Integrated Innovation®. Grand Challenges Canada focuses on innovator-defined challenges through its Stars in Global Health program and on targeted challenges in its Saving Lives at Birth, Saving Brains and Global Mental Health programs. Grand Challenges Canada works closely with Canada's International Development Research Centre (IDRC), the Canadian Institutes of Health Research (CIHR) and the Department of Foreign Affairs, Trade and Development Canada (DFATD) to catalyze scale, sustainability and impact. We have a determined focus on results, and on saving and improving lives. http://www.grandchallenges.ca
* * * * *
News release in full, click here
Example coverage by:
Globe and Mail, "Canada keeps its funding promises," click here
Vancouver Sun, "A simple B.C. fix for saving babies; Cambodia: UBC tests elegant solution to vitamin deficiency…fish sauce," click here
Edmonton Journal, "Two University of Alberta scholars win grants to attack global health issues," click here
Halifax Chronicle Herald, "CBU helping South Sudan; Sydney school to use federal aid in project to train community health workers," click here
Waterloo Region Record, "Waterloo charity gets $1.5M to combat malaria in Tanzania," click here
Cape Breton Post, "Cape Breton University professor behind South Sudanese health project," click here
Guelph Mercury, "Iron Fish Project gets $500,000 in matching cash," click here
Agencia EFE, "Canadá financiará ocho proyectos sanitarios en Latinoamérica y el Caribe," click here
Coverage summary, click here