Grand Challenges Canada, Toronto
January 10, 2014
In Bhutan: Clinical tests of new app for diagnosing seizure disorders; $300 device could vastly increase epilepsy treatment — estimated 65 million cases worldwide; 80 percent in developing countries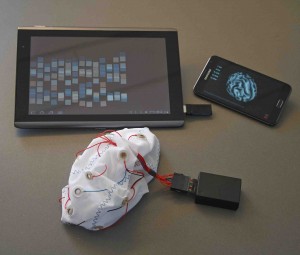 Grand Challenges Canada today announces 22 new projects to improve the quality of mental health care in developing countries.
Together, the projects extend a CDN $7.7 million (U.S. $7.2 million) helping hand to sufferers of brain-related disorders in developing countries — the most neglected of neglected global health problems.
Funded by the Government of Canada, the 22 projects will creatively explore how to augment and amplify relatively meagre existing help available to mental health and brain disorder patients.
Thirteen of the projects include novel deployments of mobile phone technologies — in several cases connecting specialists with mental health patients directly or with lay health workers identifying sufferers in some of the world's most remote corners.
And six of the projects offer help to the most vulnerable victims of all: children and youth, often shunned and brutally ostracized because of their problems.
Selected through independent peer review from 125 applications, the 22 projects break down as follows, by institution:
Canada: 8 (Toronto (4 projects), Quebec City, Montreal, Ottawa, Vancouver)
Africa: 5 (Nigeria, Uganda, Union of Comoros, Ghana, Ethiopia)
Asia: 5 (India (3 projects) Laos, Pakistan)
Latin America / Caribbean: 4 (Guatemala, Colombia, Jamaica, Peru).
Project implementation will also involve activities in Kenya, Rwanda, Vietnam, Bhutan, Nicaragua, and Haiti.
Says Dr. Peter A. Singer, Chief Executive Officer of Grand Challenges Canada: "Nowhere is the suffering of mental illness — the most neglected of neglected diseases — more neglected than in developing countries. Tackling the grand challenge of global mental health improves not only the lives of individuals but also their productivity. Improving mental health stimulates sustained economic growth of nations by investing in people."
Says the Honourable Christian Paradis, Canadian Minister of International Development and Minister for La Francophonie: "As a founding investor in Grand Challenges Canada, our government is supporting new and innovative approaches to resolving the most persistent global health challenges. Mental health is one of the most neglected illnesses in the world and these inventive projects and ideas will eliminate barriers for treatment and improve critical mental health services in developing countries."
Says Dr. Shekhar Saxena, Director, Department of Mental Health and Substance Abuse, WHO: "The World Health Organization is pleased to see this round of grants by Grand Challenges Canada to facilitate much-needed services to some of the most underserved populations in the world. Use of advanced technology to scale up delivery of interventions is an especially welcome innovation. Knowledge generated by these grants will be useful to implement the Comprehensive Mental Health Action Plan of WHO."
---
Projects, in brief
1 transition-to-scale project (up to $2 million)
INDIA
Indian Law Society
Ending abuses of patients with mental disorders in India
Project # 0465-04
Ending the restraint, seclusion, neglect and abuse — physical, sexual, and emotional — of mental health patients is the goal of a project in India's Gujarat state nominated for Grand Challenges Canada Board-approved funding of up to CDN $2 million.
Working in six facilities — three mental health hospitals, two psychiatric units in general hospitals, and the psychiatric unit at a district general hospital, which together employ 220 mental health staff serving almost 50,000 in patients and out-patients per year, along with a control group of three other facilities for comparison purposes, the Indian Law Society aims to improve facility environments; train health workers, patients and families on human rights; build support programmes delivered by non-specialists; and introduce policies and mechanisms in the facilities to protect against inhumane, degrading treatment, violence and abuse — including the use of restraints.
An Internet-based platform will help deliver the training and create collaborative areas within which service communities can share experiences and results.
The project is based on the World Health Organization's "QualityRights Tool Kit" and builds on its success over the past three years in Spain, Palestine, Greece and Somaliland.
In Somaliland, for example, pre- intervention conditions at one hospital included restraining patients with chains, with no advice on a treatment plan and "extremely poor" hygiene standards.
The QualityRights intervention led to long-term patients being released from the hospital, of which several found employment, the appointment of additional health professionals, improved hygiene standards and an end to the practice of restraining patients with chains.
Similarly, in Spain's northern Asturias province, an assessment of 28 facilities highlighted "the failure to obtain informed consent for admission and treatment, failure to use treatment protocols and guidelines, lack of psycho-education for service users and their families, and failure to provide legal advice and information about complaints mechanisms."
The QualityRights intervention in Asturias led to a transformation in the service culture, among many results — even to a Bill of Rights for people with mental disorders and a Mental Health Commission to advise the Ministry of Health.
Says project leader Soumitra Pathare, of the Centre for Mental Health Law and Policy, Indian Law Society: "Mental health services in India face many similar problems and barriers to quality care as Somaliland and Spain, and experiences of NGOs and mental health professionals working in Gujarat suggest that, with a sustained QualityRights intervention, outcomes could be substantial."
Adds co-principal investigator Akwatu Khenti, of Toronto's Centre for Addiction and Mental Health: "CAMH has extensive experience and expertise in anti-stigmatizing, evidence-based care that will inform this project — an initiative with global significance because of the exemplary collaborative / participatory involvement of patients and families at the core of the approach."
---
21 seed projects (up to $270,000)
CANADA
University of Ottawa
$300 device to help diagnose epilepsy, other seizure disorders
Project # 0338-04
The first clinical trials will be conducted on a portable electroencephalography (EEG) device that innovators believe could become a routine tool in developing countries for the diagnosis and care of people with seizure disorders.
The new screening app, a $300 device, in particular could dramatically raise the global level of diagnosis and treatment of epilepsy, a problem that affects 1 in 100 people — 65 million worldwide, an estimated 80 to 90% of them in developing countries, of which at least 60% go untreated.
The high incidence of epilepsy in developing countries is attributed to higher rates of head injuries and certain infections, including cerebral malaria. (See also http://bit.ly/JmPjDR)
University of Ottawa-based researchers will pioneer tests of the technology in Bhutan, a small South Asian kingdom at the rugged eastern end of the Himalayas, landlocked between India, Nepal and China.
While there are two psychiatrists, not a single neurologist practices full time in Bhutan, a nation of 900,000 people with an estimated 10,000 epilepsy cases, most of them undiagnosed, says project leader Farrah Mateen, a neurologist and faculty member of both the University of Ottawa and the Massachusetts General Hospital of Harvard Medical School.
And, she says, there is only one EEG machine, working intermittently at the Jigme Dorji Wangchuk National Referral Hospital, the tertiary care centre in Bhutan's capital, Thimphu.
"Epilepsy is characterized by recurrent, unprovoked seizures and in many poor countries like Bhutan sufferers are stigmatized and ostracized — often feared by the ill-informed to transmit the illness through saliva." says Dr. Mateen. "Such beliefs prevent epilepsy victims from getting the help they need during a seizure, which causes many serious injuries and death, often due to drowning or burns."
An EEG detects tiny electrical impulses produced when brain cells communicate with each other. Typically, a test involves placing electrodes on the scalp, connected by wires to a speaker and recording machine. The brain's electrical signals are turned into wave patterns viewed on a computer as the patient is asked to, for example, breathe quickly and deeply, or to look at a bright flashing light.
Dr. Mateen and colleagues will gather the results of tests conducted with the EEG app, developed with the help of Danish Technical University using open-source software (offering the potential for rapid global scale-up), and compare them against those of more expensive stationary equipment.
The new device connects 14 electrode leads on the scalp through the headphones jack of a tablet or smartphone to capture the brain's electrical activity. The data can then be sent via cellular phone network to specialists for interpretation.
The ultimate goal: to enable a community-level primary health care worker anywhere in the world to diagnose seizure disorders. In the case of epilepsy, it can be treated with drugs that are both effective and inexpensive (as little as a few cents a day).
Says Dr. Mateen: "We particularly look forward to introducing the device in settings where children suffering seizures and related disorders are subjected to discrimination, and to study whether better diagnosis reduces stigma and increases social integration."
She sees the tablet / smartphone EEG as an effective solution to the shortage of neurologists in low-income countries.
"Data show that 12 African countries with a combined population of 26 million don't have a single neurologist, and 23 other countries — average population, 5 million — have four or fewer neurologists. By comparison, the WHO in 2004 reported Western countries average one to 10 neurologists per 100,000 inhabitants."
"Populating the world with neurologists, which involves training of a decade or more, is impossible. But we can roll out technology that is cheap and simple to use."
"People in Asia and Africa will be able to get a diagnosis, and hopefully treatment, instead of going their entire lives without knowing that what they suffer from is epilepsy."
---
University of Quebec-TELUQ
Addressing rampant child abuse and resulting mental illness in Haiti
Project # 0331-04
In Haiti, the Western Hemisphere's poorest country still coping with the catastrophic effects of a major earthquake in 2010, there are today fewer than 30 psychiatrists for more than 10 million people — a population with widespread psychosocial and psychiatric issues.
"Physical and psychological violence are frequent in a child's life in Haiti — a problem exacerbated by extreme poverty," says Yves Lecomte, a psychologist and professor at the University of Quebec-TELUQ.
He leads a GCC project to create a network of Haitian community services and caregivers to promote mental health, to offer psychosocial services, and specifically, to oppose family violence, abuse, and the potential mental health problems caused.
Says Dr. Lecomte. "Children can be the victims of educational methods in which corporal punishment is commonly accepted, contributing to causing affective and conduct disorders."
Commonplace also in Haiti: families forced by poverty to give away children.
"Those kids are not adopted," he says. "They are incorporated into other families, not as children but as virtual slaves — cleaning, carrying water or providing other services, becoming easy targets for physical or psychological abuse. Those kids are at risk to suffer developmental problems growing up without anyone playing the fundamental role of parent."
Dr. Lecomte's project will focus on Grand-Goáve, a semi-rural region of 130,000 inhabitants, and collaborate with a citizens' group already trained in the issues.
The network will promote mental health and non-violence toward children through radio broadcasts and meetings, in particular with special target audiences to include new parents and young people. They also aim to reach children themselves (including abused children) to help them develop strategies to prevent violence and coping skills.
Other efforts under the project include the rehabilitation of victims of violence, suffering developmental, emotional and behavioural problems or disorders — screening, treating or referring them to professional treatment centres.
* * * * *
News release in full, click here
Example coverage:
Global
BBC World Service "Click" programme, re. epilepsy app
Canada
Vancouver Sun  What's the big idea? It's simple; Training: It's key for health care workers to identify mental illness among their patients.  Click here
Toronto Star Got epilepsy? Now there's an app for that.  Click here
Metro Ottawa University of Ottawa professor behind new epilepsy-screening app.  Click here
Ottawa Sun  U of O researcher develops app to scan brains.  Click here 
QMI News Agency (via Journal de Québec)  Une app pour détecter l'épilepsie.  Click here
Le Droit (via La Presse, Montreal)  Une app pour détecter l'épilepsie.  Click here
CBC Radio Ottawa (Ottawa Morning)  There really is an app for that.  Click here
104.7FM Outaouais  Coup de chapeau à Farrah Mateen, une chercheuse de l'Université d'Ottawa qui a créé une application qui permet de détecter l'épilepsie. Click here
Digital Journal  Canadian initiatives to support mental health, click here
Europe / Latin America
Agencia EFE (Spain, via Agencia Guatemalteca de Noticias)  Canadá financia planes salud mental en Guatemala, Colombia, Nicaragua y Perú, click here
Africa
SciDev (UK, Kenya bureau)
The East African (Kenya)
Africa Science News Service (Kenya) Mental Health: African Countries to Benefit from a USD7.2 M Canadian Grant, click here
Daily Post (Nigeria) Canada-based organization moves to combat mental disorders in Nigerian children, click here
Asia
Vietnam News Agency (via Organization of Asia-Pacific News Agencies, Indonesia) Canada funds Vietnam's first mental health project, click here
Nhân Dân (Vietnam) 7,7 triệu đô la Canada tài trợ dự án chăm sóc sức khỏe trí tuệ ban đầu (CAD $ 7.7 million mental health care projects funded).  Click here
* * * * *
Coverage summary, click here